---
Drop Box Roll-Off Rentals
Hudson Garbage Service offers 20, 30 and 40 yard drop box (roll-off) rentals for big projects in Clatskanie and Rainier. For smaller projects, Hudson Garbage Service also offers short-term 2 yard roll-off rentals in Clatskanie, Columbia City, Deer Island,Rainier, St Helens and Warren.

---
---
Columbia County business, commercial and industrial customers with bulky, non-compactible wastes such as paper, sawdust, wooden crates and many other materials are effectively serviced by Hudson Garbage Service's roll-off container systems. These containers are also useful for construction sites, including residences with a large amount of demolition and construction-related debris (remodeling).
The high-capacity steel boxes used in this waste collection system can be hand-fed with large 7-foot rear doors that will accommodate fork lifts for depositing extremely bulky or heavy materials. Full roll-off containers can be hauled and returned or replaced with an empty one by Hudson Garbage Service on a predetermined schedule or on an as needed basis.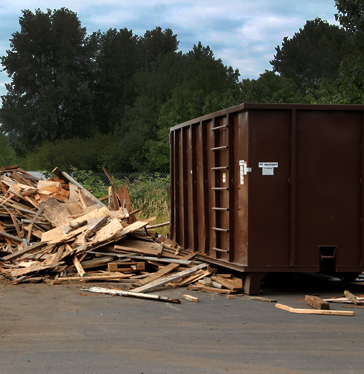 CONTAINER SIZES
Short-Term

Rear Load Container

Wide

High

Deep

2 Yard

5.5'

4.5'

4'

Drop Box (Roll-Off)

Long

Tall

Wide

20 Yard

22'

5.5'

8'

30 yard

22'

8'

8'

40 yard

22'

8.5'

8'
---
Roll-Off Acceptable Items
Furniture
Large appliances
(no CFCs, no Freon)
Remodeling materials
Non-hazardous construction debris
Steel products
Tires (charged per tire)
Trash
Tree limbs
Roll-Off Non-Acceptable Items
Appliances with Freon
Electronics
Medical waste
Dead animals
Hazardous waste
Roll-Off Areas Served
Our Columbia County Drop Box service is available in the following communities:
Clatskanie
Goble
Prescott
Rainier